High-Quality Boiler Tube Repair

We are proud to Install and Repair all of your boiler and pressure vessel needs. 
Consider Walters' Boiler Works Inc. for Trustworthy Boiler Service.
Consider our ASME Qualified Welders for your boiler and pressure vessel repairs.
Call on Walters' Boiler Works Inc. for all your Boiler Tube Repairs.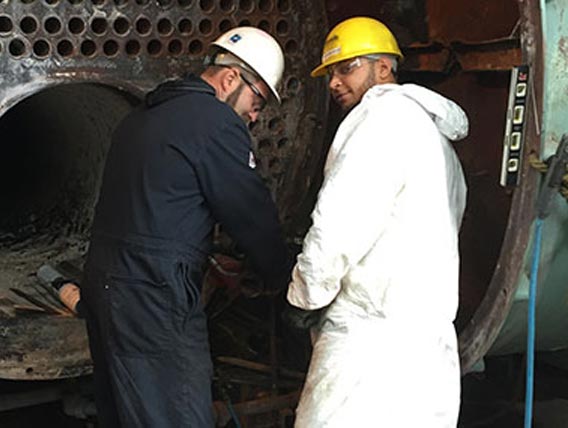 Our Staff of Professionals Offers
High-Quality Boiler Tube Repair
Walters' Boiler Works Inc offers high-quality boiler tube replacement. The primary function of boiler tubes is to heat water and produce steam.  With busted pipes, boilers can lose the ability to provide adequate heat. A leaking boiler tube can cause a loss of production or a loss of heat. If you need boiler tube repair, call us at (419) 355-8155, or contact us online to schedule an appointment. Customers can also call toll-free at 1 (800) 678-4321.
Walters' Boiler Works Inc. Offers
Top-Notch Boiler Services for Customers
Here are descriptions
of what our various services may include:
Expansion Tank – thickness testing, checking proper bladder air pressure, inspect bladder condition – replace or repair if needed.
Pumps – Check operation of boiler feed pumps and circulation pumps. Install new seal kits. Grundfos tower replacement. Upper and lower bearings in motor replacement, orifice nipples replacement , check and replace impellers. Complete pump replacement.
Water Leg – Replace entire water legs with maximum clean outs or replace just a washed-out corner.
Combustion Check – Check burner from low to high fire for maximum efficiency.
Steam Traps – Evaluation of steam traps function. Functional or leaking or cold or blowing. Followed up with replacements or rebuilds of traps.
Fire Brick – Evaluation of firebrick/burner refractory. Patching, coating, grinding out cracks. Burner throat tile. Burner cones replacement.
ASME Section Welders – 24/7/365 on call ASME Section IX qualified welders.
Vacuum Receiver Tanks – Inspect and flush upper and lower tanks. Check operation of vacuum / ball floats. Re-build or replace pumps.
Parts – Stock boiler tubes, pipe fittings, hand hold and manway gaskets, float control gaskets, sight glass and gaskets, burner controllers, Sealex, tube brushes.
Tube Replacements – dye check and grind out fire cracks. Replace straight through / dimpled tubes / XID tubes (rifled Tubes) / aluminum Alfer Tubes.
Boiler Install – We install hot water boilers, sectional boilers, up-right boilers, fire tube boilers, watertube boilers and also electric boilers (all commercial boilers).
Sectional Boiler – We will replace an end sections or intermediate section, all new sections with push nipples or neoprene gaskets torqued to factory specs.
Open and Close – Tear down entire waterside / fireside and all low water safety controls. After Inspector with the State or Insurance inspects boiler, we will install all new waterside and fireside gaskets and check safety controls for proper/ safe operation.
R-Stamp – Field and shop metallic repairs and alterations of pressure retaining items per the national Board Inspection Code.
Piping – high and low pressure steam, gas, oil, air, condensate, stainless steel piping, stacks, water lines, gas vents, boiler blow down piping (Threaded, Welded, or ProPress).
DA Tank – Open and inspect all parts of a DA tank, including steam spray nozzle, baffles, vents, traps, float controls, steam regulators, pumps and also do thickness testing of the vessel.
Condensate Tank – open and flush all sediment inside tanks. Weld on temporary patches or install completely new tanks with couplings in mild steel and stainless steel.
Learn About the
Overview of Boiler Tubes
There are two significant types of tube boilers: water-tube boilers and fire-tube boilers. Both of them play unique roles in heating commercial buildings and schools. Here is a closer look at each:
Water Tube Boilers
Water circulates inside the tubes. Hot gases generated by the furnace heat the water as it goes through the pipes.
Fire Tube Boilers
Hot gas passes through one or many tubes in Fire Tube Boilers. The gas heats the water surrounding them through thermal conduction. Boiler tubes are susceptible through specific damage mechanisms, including boiler feed water corrosion, graphitization, thermal, and corrosion fatigue.
Walters' Boiler Works Inc.
Proudly Serves All of Ohio
Schools and business owners in all of Ohio come to Water Boiler Works for all their boiler needs. Whenever customers call us, we take their needs very seriously. Our staff of dedicated professionals always goes above and beyond the call of duty on every job. We pride ourselves on serving our customers in the best way possible. If you live in any of the following cities, please call us today:
Contact Walters' Boiler Works Inc today when you need high-quality boiler tube repair.
We are proud to provide 24-Hour Emergency Services to our clients.